In 2015 I first heard about the Homes for a Pound program. I have lived and worked in Liverpool, England for ten years and was a post graduate at a local university.
The scheme, run by the city council, promised to sell vacant houses for just one pound, which is about one US dollar and fifteen cents. But only on condition that the residents were already living or working in Liverpool, stayed in the house for five years and renovated the property within 12 months to a set of UK building regulations called the Decent Homes Standard.
At the time, I was living in a cheap shared flat and thought naively: "Wow, they're giving away vacant houses."
Successful applicants were required to have enough money to renovate the property, although the form did not specify a specific amount. I definitely didn't have the funds to restore an entire house, but I lied on the form and said I had a decent amount of savings. I sent the application in June but haven't heard anything for four years.
Over time, I completely forgot to apply. Life goes on and I stayed in Liverpool, living in council housing which is provided at affordable prices and working full time as a project manager at my former university. I saved very little, and only after a series of fortuitous circumstances did I come to some money.
In 2018 my estranged father passed away. It turned out that I was his next of kin and had inherited a small estate from him which I was able to sell for a profit of £60,000 (about $68,000).
When the money landed in my bank account the following year, I had no idea what to do with it. Luckily the council called me a few days after the windfall to say they had shortlisted me for a traditional two bedroom Victorian terraced house for just £1.
At first I thought it was a scam. I said, "Yeah, okay, I'll give you a pound." I couldn't believe it when I found out it was real. What I didn't know was that the house I was going to get was in a state of disrepair.
Before I agreed, I had to visit the house to make sure I wanted it. When I first entered the property, I thought, "Oh my god." It was pitch black, all the windows were boarded up and it was dripping. Immediately I thought: "My plants are not going to like it here!"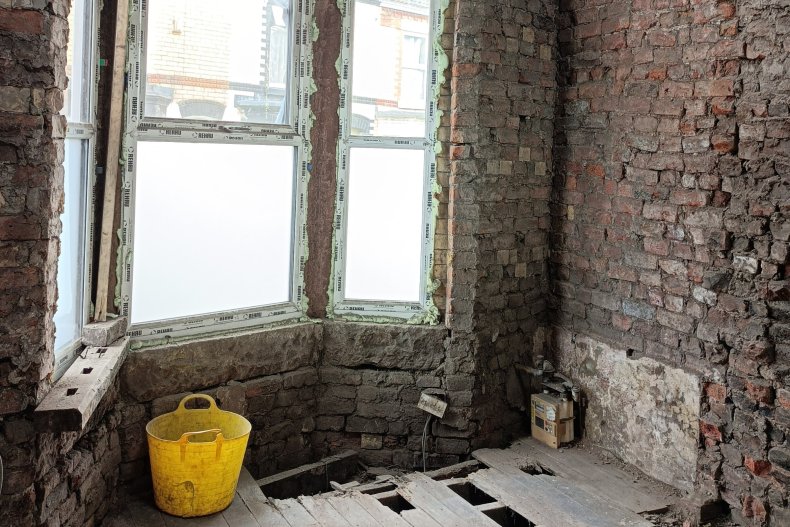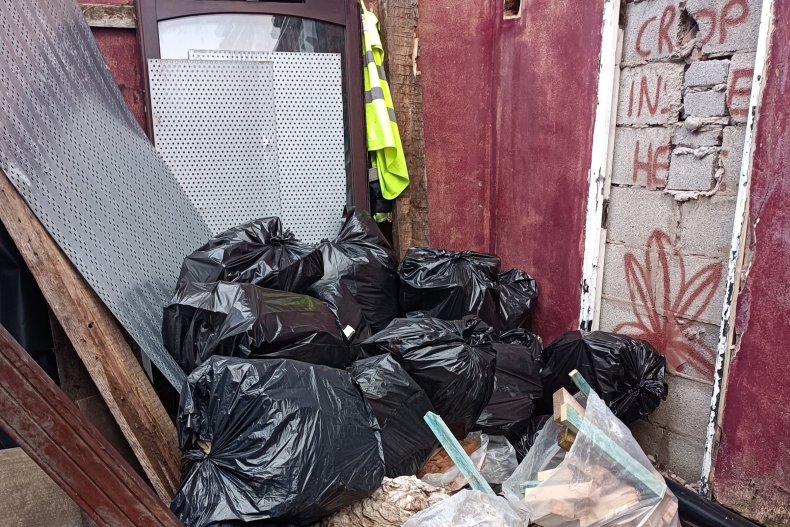 First you had to wear a hard hat and protective clothing to even go inside, it was really bad. Despite the problems, I thought, 'I love it, I still want it. Asbestos? rats? I don't care!" It felt like it was meant to be.
I was officially offered the house in June 2019 and was super excited. I was on cloud nine. I even quit my job to throw myself full-time into renovations. I thought, "I'm retiring, I'm ready for life!" I was just so happy and grateful.
Due to the Council's legal procedures, it took nine months for anything to happen. I had already hastily quit my job because I naively thought I would have access to the property in a few weeks, so I had to spend the money earmarked for the house on my living expenses. On Valentine's Day 2020 I finally got the keys to my house.
I still had almost £60,000 (about $68,000) and 12 months to renovate, but the following month the UK went into lockdown for the first time. I thought, "Great, no builders." I had the keys but no one to work on the house. I spent a while just walking around the building and thinking about what to do with it.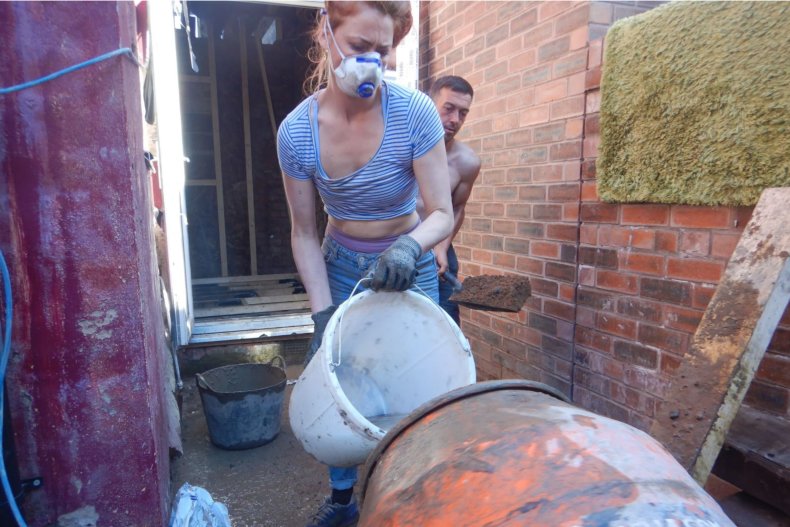 I was thinking about how to maximize the light in the house and had the crazy idea of ​​installing skylights on the roof so that light from outside would reach the upper floors of the house. But because I wanted my bedroom to be darker than my living area, I decided to move my kitchen and living room upstairs.
I had an architect flesh out my ideas and in Spring 2020 brought in professional contractors who were able to do all the work. The cheapest offer I got was around £80,000 (around $91,000) while others have been at over £100,000 (around $114,000). Also, they could not start work for a whole year because of the pandemic.
I knew then what I wanted. The fact that I can't do it didn't put me off, I just thought: "Fine, I'll renovate the house myself." It was about getting it done no matter what. I was still full of enthusiasm and had about £50,000 (about $57,000) in my bank account, so I was feeling pretty confident.
In May 2020 I threw myself into what is called the "demolition" of the property. It's the dirtiest, messiest job, removing everything, chiseling all plaster from around the house, smashing in walls and ceilings, and removing interior walls upstairs. Luckily my brother-in-law and his father know a bit about renovations and were able to advise me. The whole process took nine months.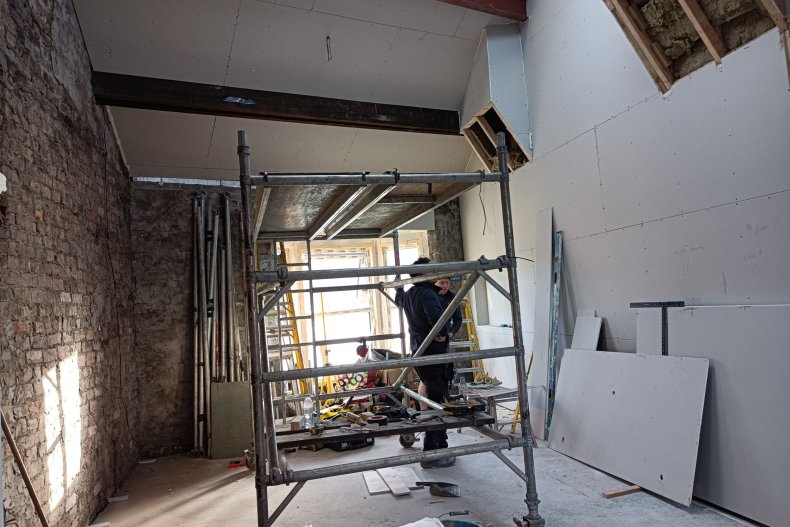 Luckily the council had issued a 12 month extension to my construction work through June 2020 due to the pandemic, meaning I had until February 2022 to complete the renovations.
Next we replaced the purlins in the roof with steel beams. People usually have them delivered with cranes, but we didn't have the money. Instead, me, my brother-in-law, and his father carried these 16-foot beams, each weighing about a ton, through the house and up into the attic. I have no idea how we managed that. The tech that goes into it is insane, but it's cost us nothing but hard work.
Next I had to get some electricity, which I had borrowed from my neighbor. I hired an electrician and it cost me £3,000 (about $3,400) to completely rewire the house. I had to decide where I wanted lights and outlets, but I had to envision what the space would look like. The kitchen was an abstract concept back then, so it was really difficult.
After deciding what plumbing source I should have, I was offered £6,000 (about $6,800) to install underfloor heating. I ended up making it myself with the help of a friend, which only cost £1,900 (about $2,200). I learned how to do it by chatting with my plumber and watching tutorials on YouTube.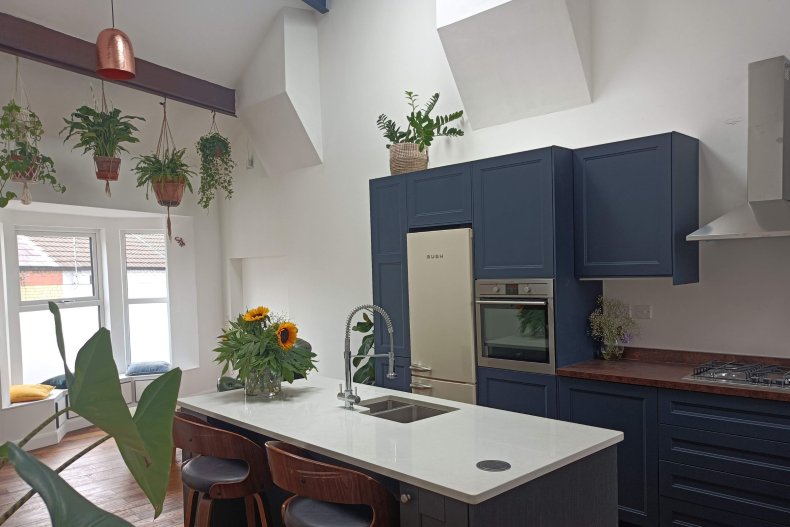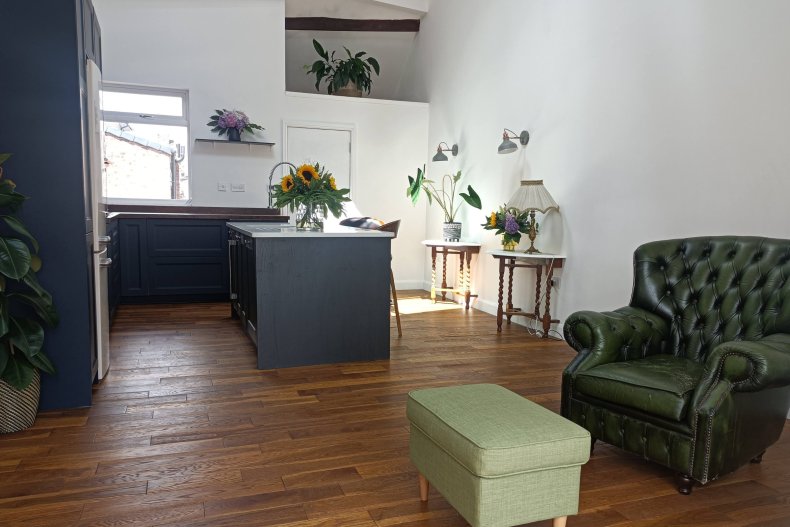 As the work went on, my upside down house took shape, but in February 2021 the work stopped due to a lack of available labor. By the following month I had used up half my budget but only a quarter of the house construction.
About a year into the process, I was finished with the house. I had to take a break for a few months because it was so stressful. I decided to move into my RV to save money, which was fun for a while. Shortly thereafter, in June 2021, I secured a part-time position as a yoga teacher.
I was pessimistic about the project, my funds were exhausted and it was difficult to find workers. But one day while we were still in lockdown I met some friends on a walk. Immediately they could see the agony on my face. I told them I wanted to give up the housework.
They told me not to give up and said they would help with the renovations. I'm so lucky to have such dear friends who really got into the project as much as possible. I was also offered surplus leftovers from neighboring job sites to save money.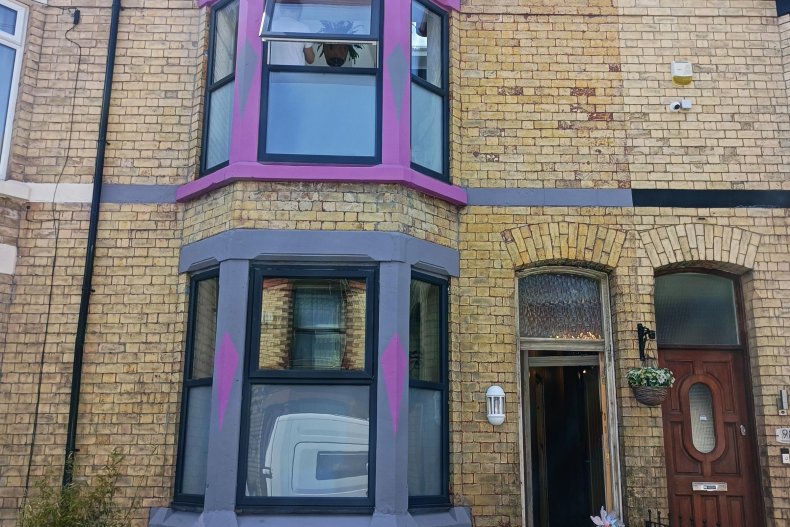 In June 2022 the house was rated as 'decent housing' and I have recently moved into the upper floor which is now fully finished and really nice. Once I've finished my ground floor flooring, the renovations will be complete.
Right now I can't afford to finish downstairs all at once as my original budget is gone so I'm doing smaller jobs month after month. I can't wait for the house to be finished.
Underfloor heating on the ground floor will be such a luxury, as will triple glazed windows and a place to hang my plants once and for all. I've moved so many times in my life, from Liverpool at the age of six and back at the age of 18, that I feel like I can finally live in a house that cost £1 (about $1) and that I brought back to life It's gonna be incredible.
Maxine Sharples, 35, is a yoga teacher based in Liverpool, England. You can read about her renovation journey here or follow her Instagram at @homesforapound.
All views expressed in this article are the author's own.
As told to Monica Greep.