At first glance, interior designer Carlotta Oddone's home is full of contrasts: an urban apartment with a rustic garden; a colour-saturated space that appears deeply soft; a floral-laden interior that also feels contemporary.
But linger here and there is a sense of harmony – the result of a quick and sure gaze. "Yes, I am very confident in my decorative choices, although not always in other areas of my life," says the Turin-born interior designer whose 1930s home, one of the finest in the world, is on a busy Piedmont street lies capital. "I've always liked being unconventional."
Carlotta has long had a fascination with color and pattern, as evidenced by the fact that she is also a textile designer and color consultant for influential fabric manufacturers. "My mother owned a furniture store and my grandmother was a dressmaker," she says. "I always asked her to make clothes for my dolls, so I grew up surrounded by fabrics."
Still, her career is a far cry from her former life as a newspaper journalist. A few years ago, with a family that includes Nicola, now 20, and Pietro, 23, Carlotta traded long days in the office for interior design to better serve her creative ambitions.
"We bought this apartment around that time," she says. "It inevitably became a proving ground for new ideas, unusual color combinations and an unconventional layout."
Carlotta Oddone worked as a journalist for national newspapers before pursuing her true passion: creative interior design and Officina dell'Invisibile was born. After that, Carlotta worked in Rio de Janeiro for five years, and when she returned to Italy, she also became artistic director of a large textile company. She works with private clients and in the contract world, furnishing properties throughout Italy and abroad. Her home is a showcase for her bold, signature style, which beautifully blends color and pattern with vintage and contemporary pieces.
corridor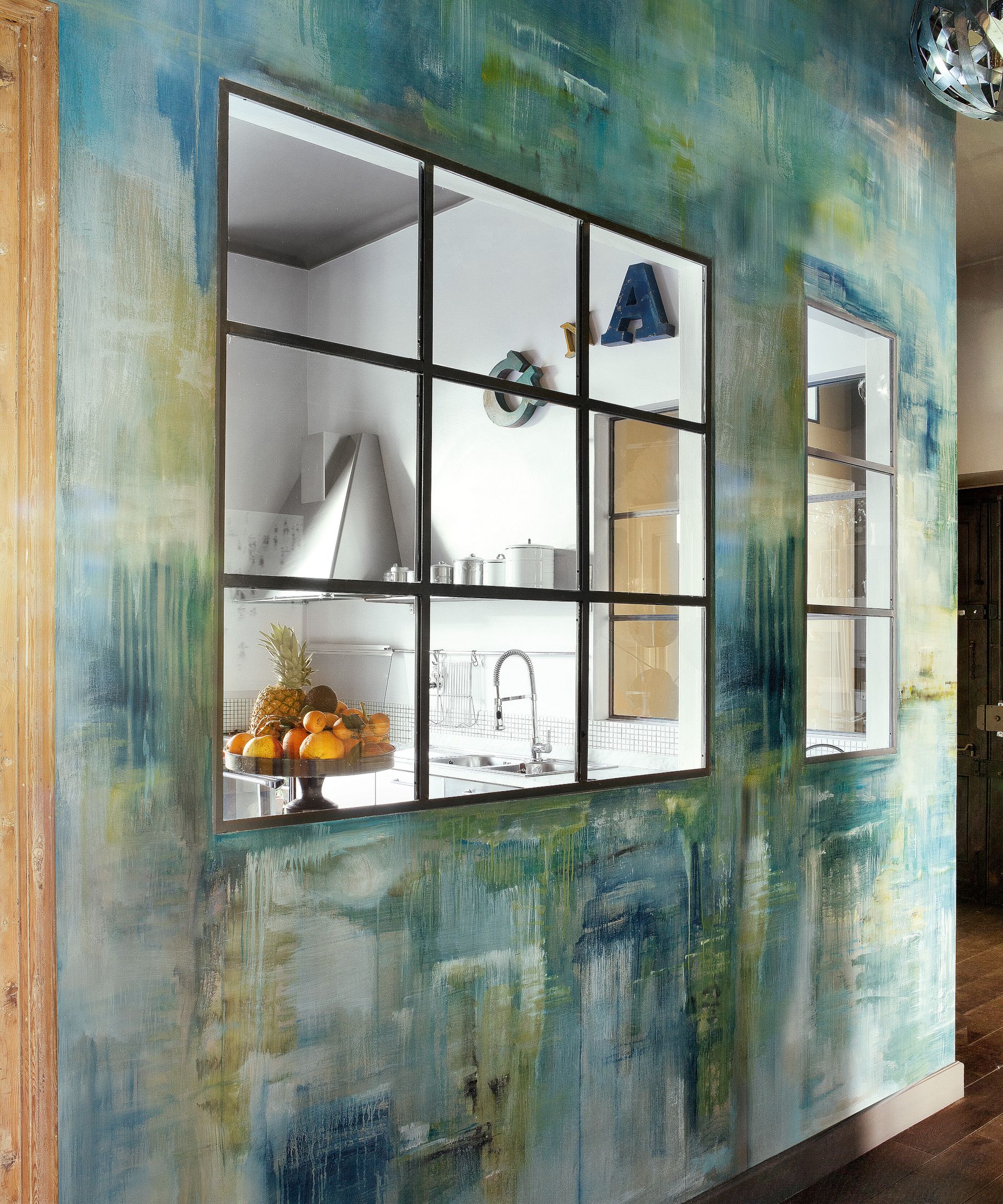 Instead of the usual configuration of a corridor with rooms leading off it, Carlotta and husband Paolo knocked down a wall in the hallway and connected two rooms into a box-like structure that houses the kitchen. "When my mother saw that, she was shocked," says Carlotta. "It's not common in Italy for the kitchen to be the first thing you see upon entering an apartment, and certainly not in the protruding box format we gave it."
Hallway ideas include interior windows to channel the light, while a chalky tie-dye painted abstract finish softens the look.
kitchen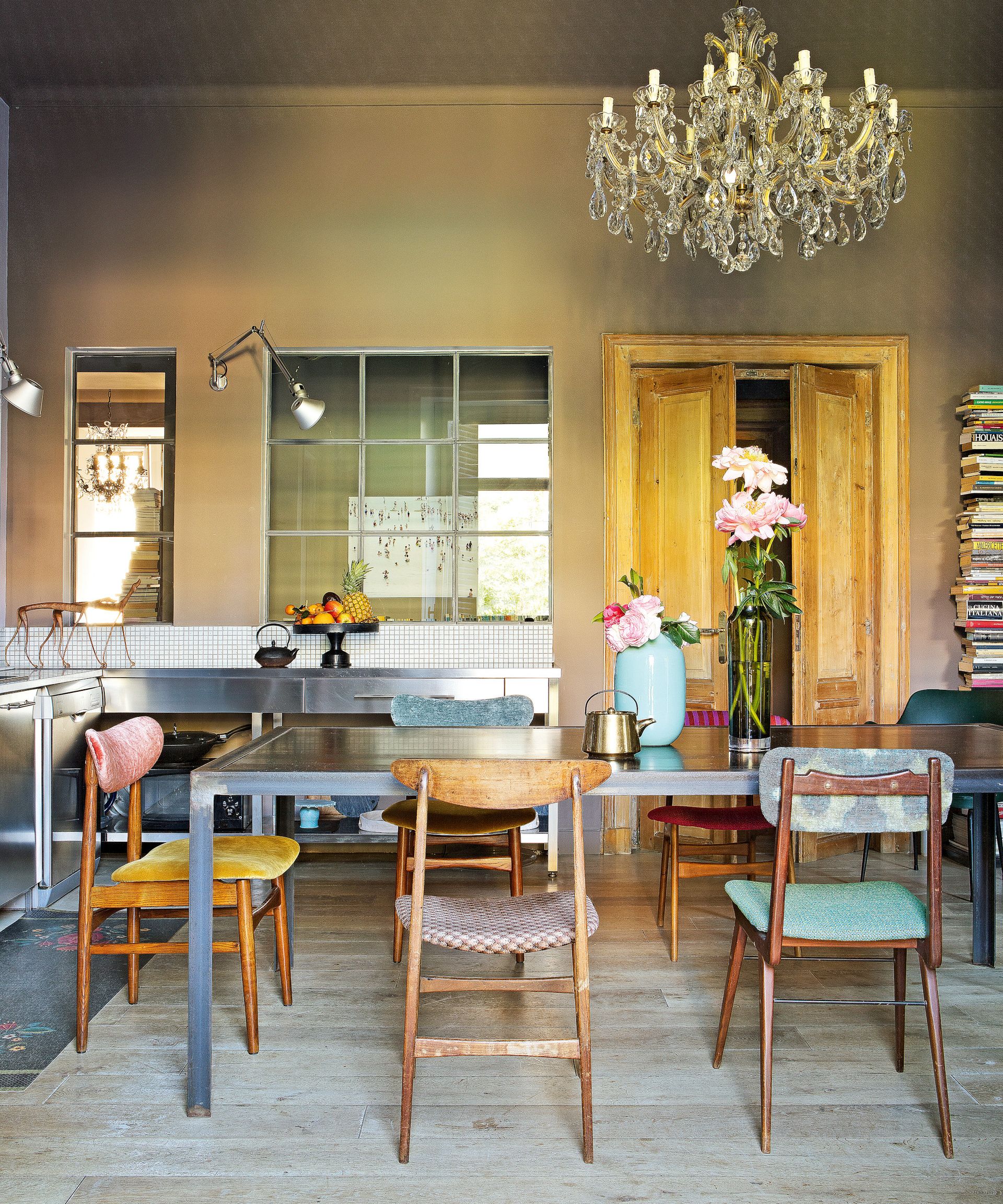 An industrial edge is given steel cabinets and counters, just one of Carlotta's kitchen ideas.
The cooking room has seating for a crowd. Carlotta designed the dining table. An eclectic feel is evoked with mix-and-match chairs.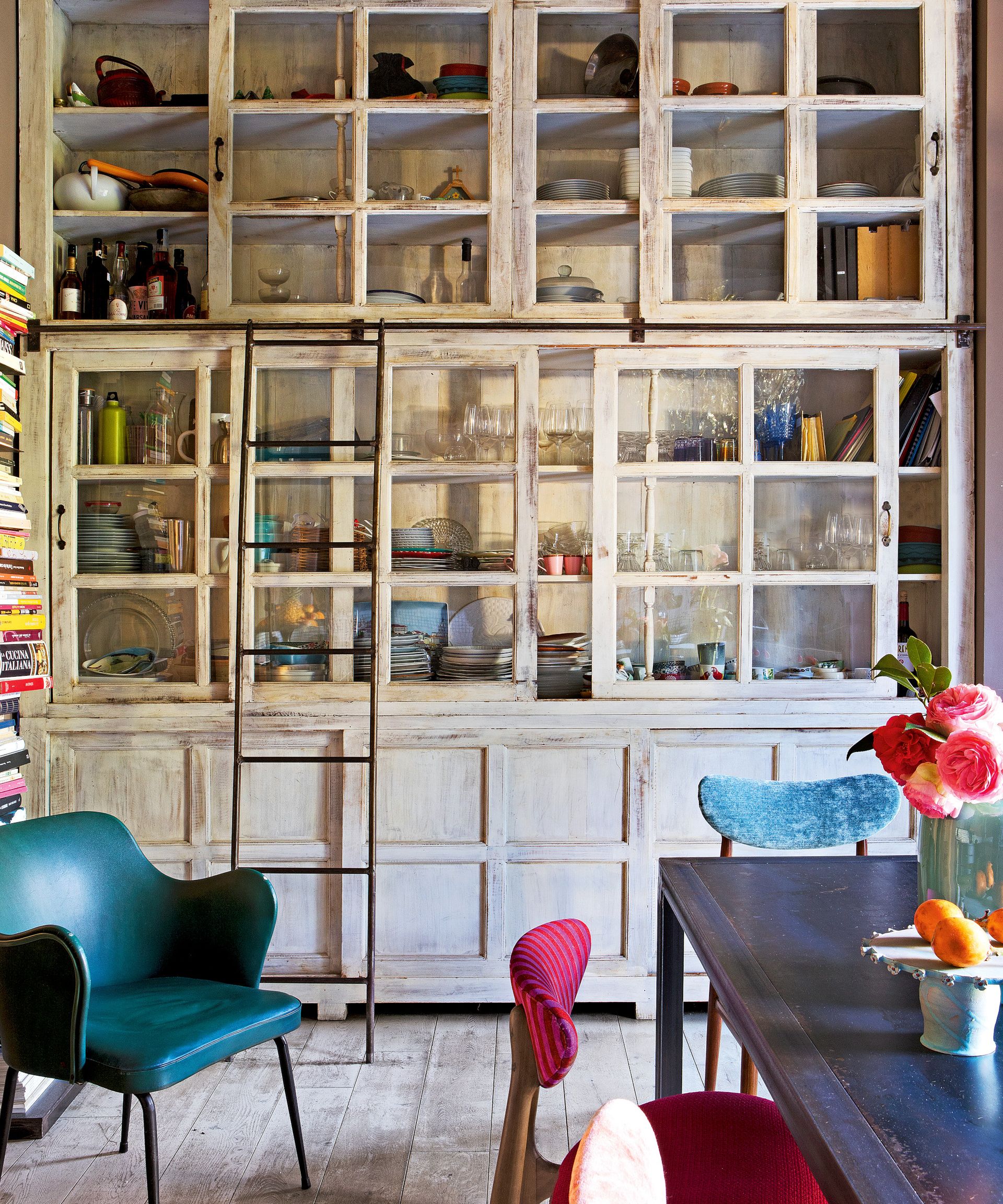 Dining room ideas include a huge distressed glass cabinet with plenty of storage space for dining and kitchen appliances. "Even though we're in Turin, I would say that this apartment has country elements, like these cabinets," says Carlotta.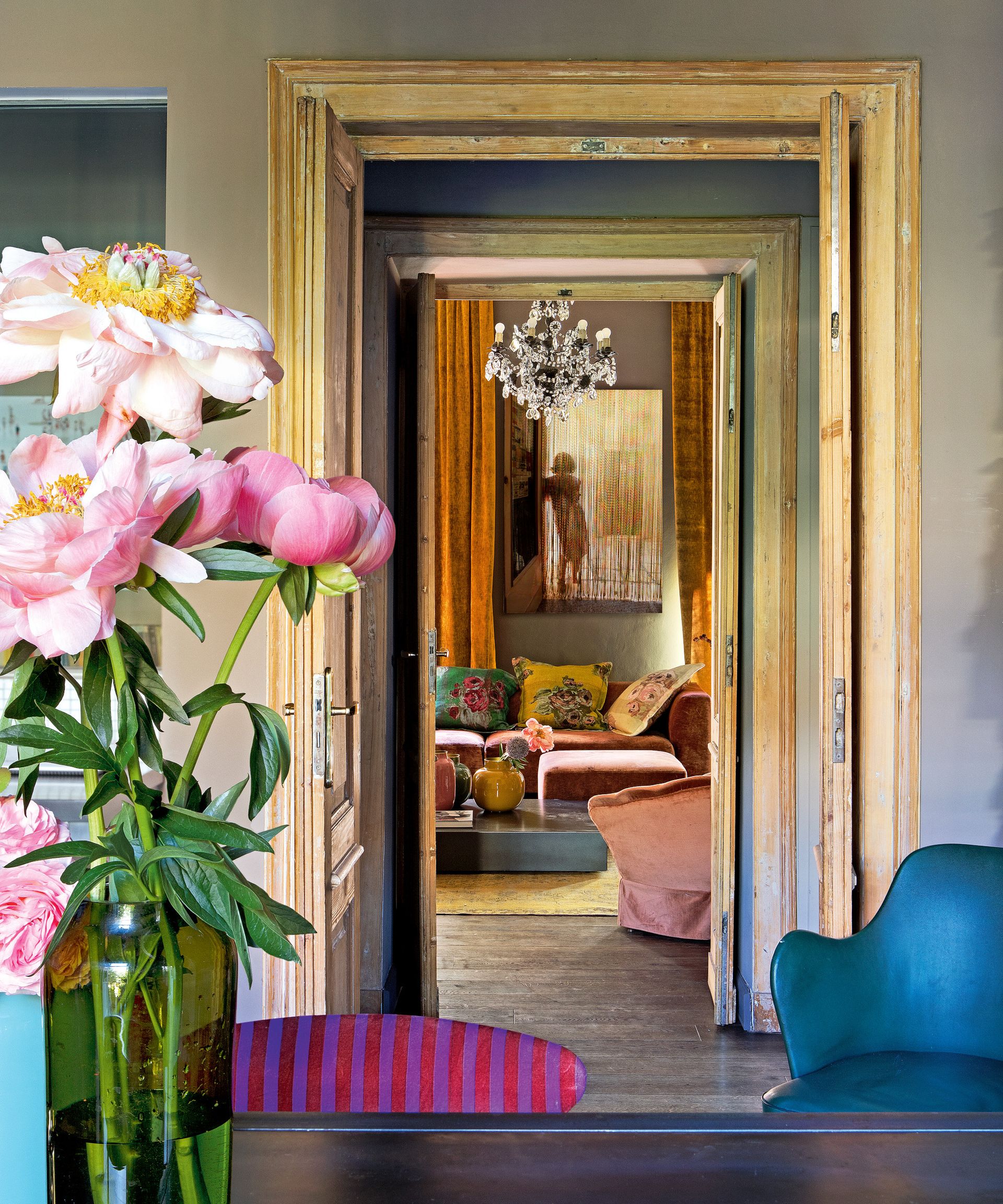 Carlotta's love of wood finishes is evident in the door frames with their raw, untreated quality.
living room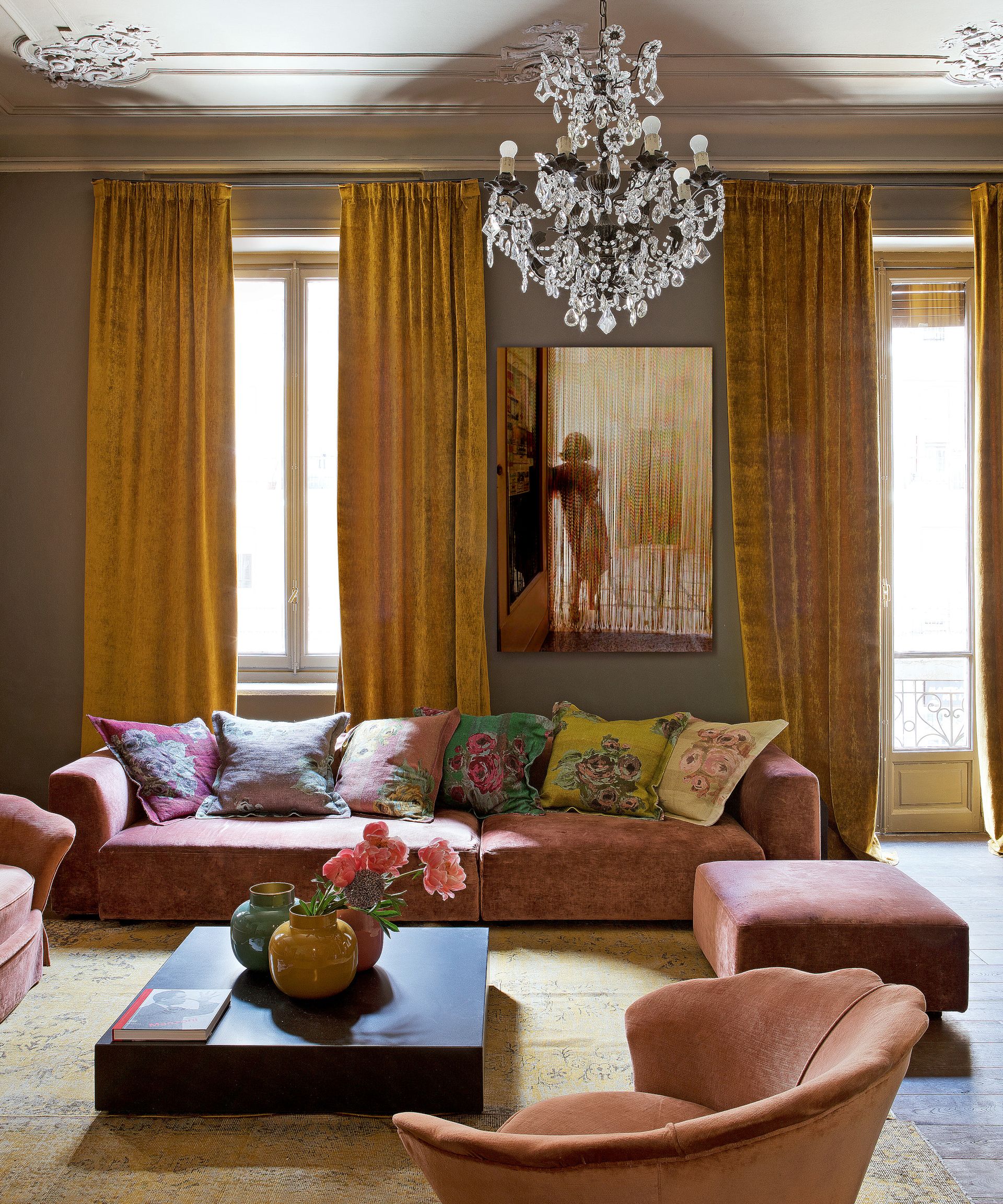 Carlotta's living room ideas included incorporating a colorful palette of pinks and ocher tones for a luxurious feel, particularly in velvet form.
Other bold architectural additions have modernized this historic space. A mid-height structure wallpapered with a strong geometry provides storage, while an unglazed interior window frames a view of a study.
home office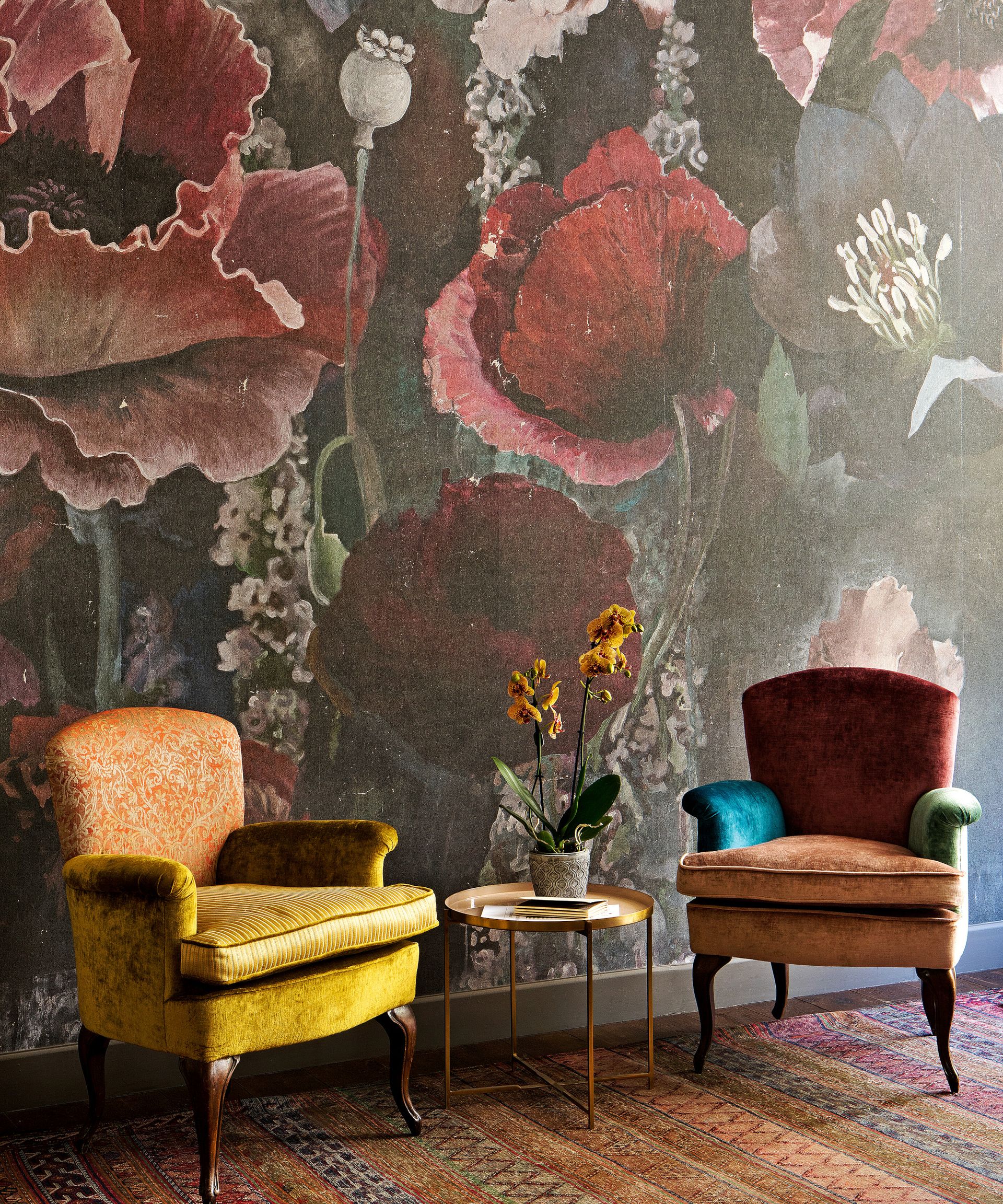 A lover of raw materials and lighting, Carlotta defines her style as "new retro" for its harmonious mix of old and new and its contemporary reinterpretation of vintage style.
The large floral wallpaper in the study is a case in point and one of Carlotta's most dramatic home office ideas. "I love the fact that the manufacturing uses high-tech methods and yet the design feels painterly and like a classic work of art," she says.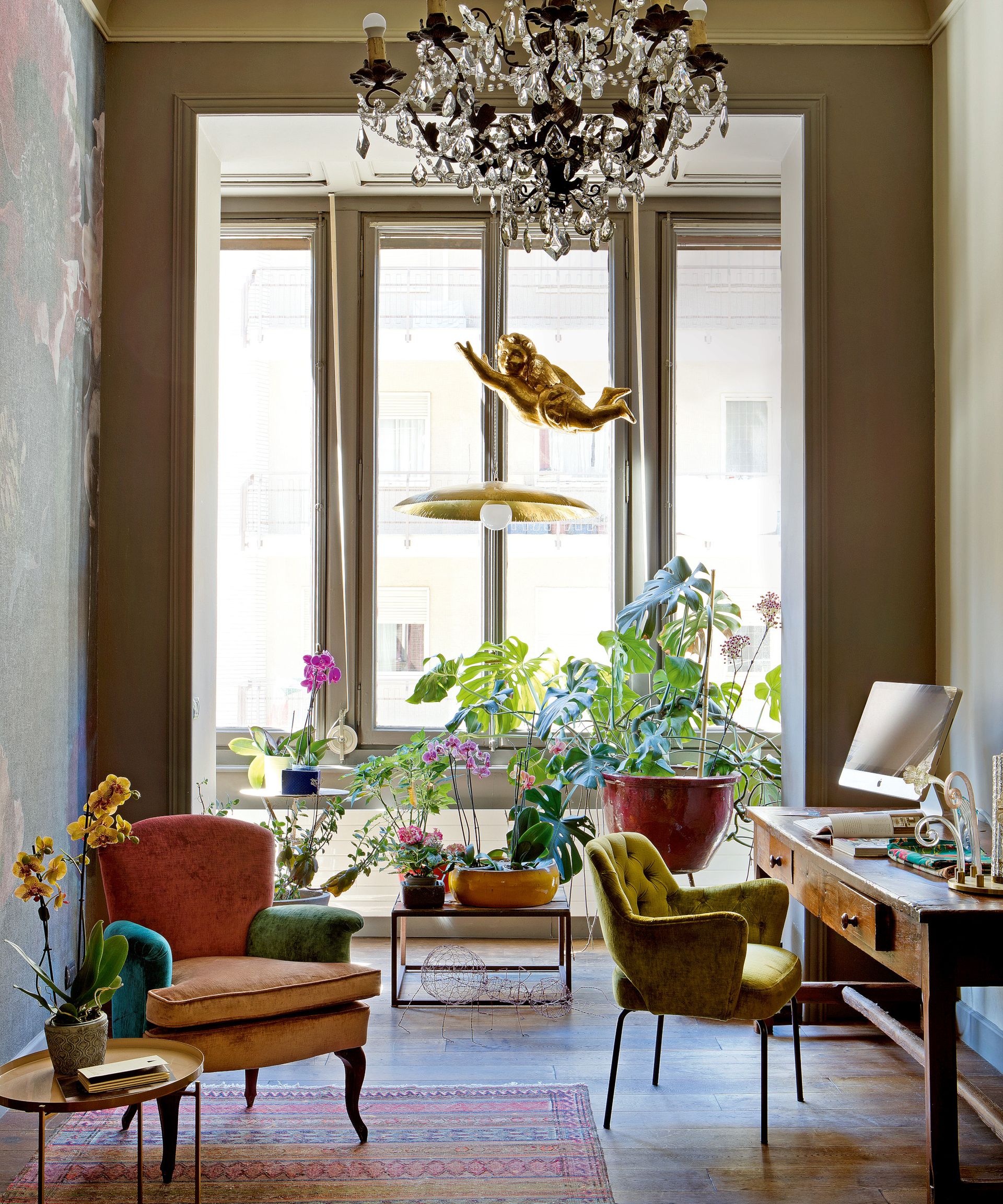 An elegant chandelier is paired with a more modern brass pendant light. The papier-mâché angel was bought at a Roman market.
master bedroom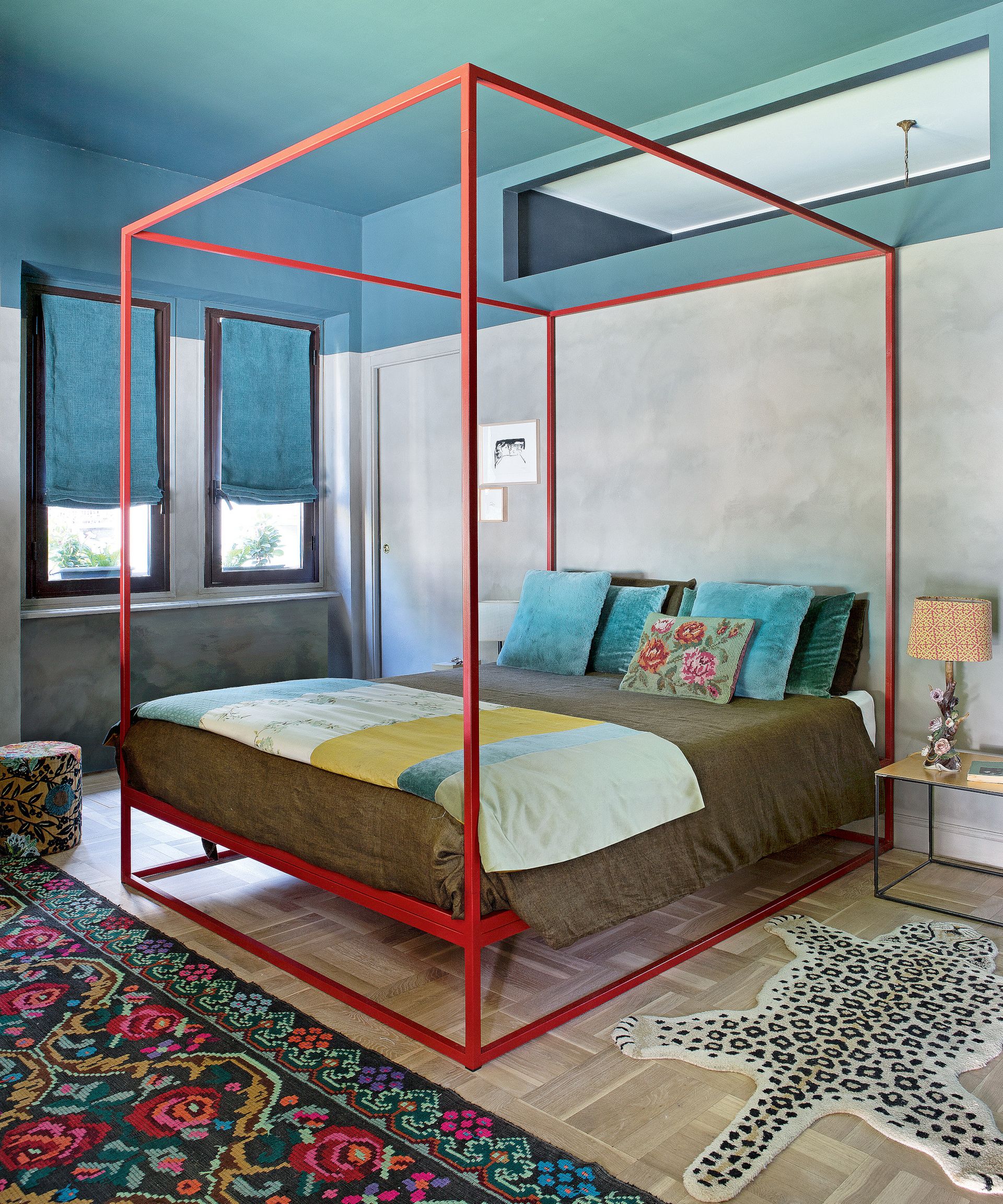 In another departure from the norm, Carlotta and Paolo's bedroom and bathroom are located in an outbuilding in the garden, where they are surrounded by nature and birdsong every day. To tie in with that, one of Carlotta's bedroom ideas was to paint the ceiling teal so it looks like you're looking up at the sky – very relaxing.
master bathroom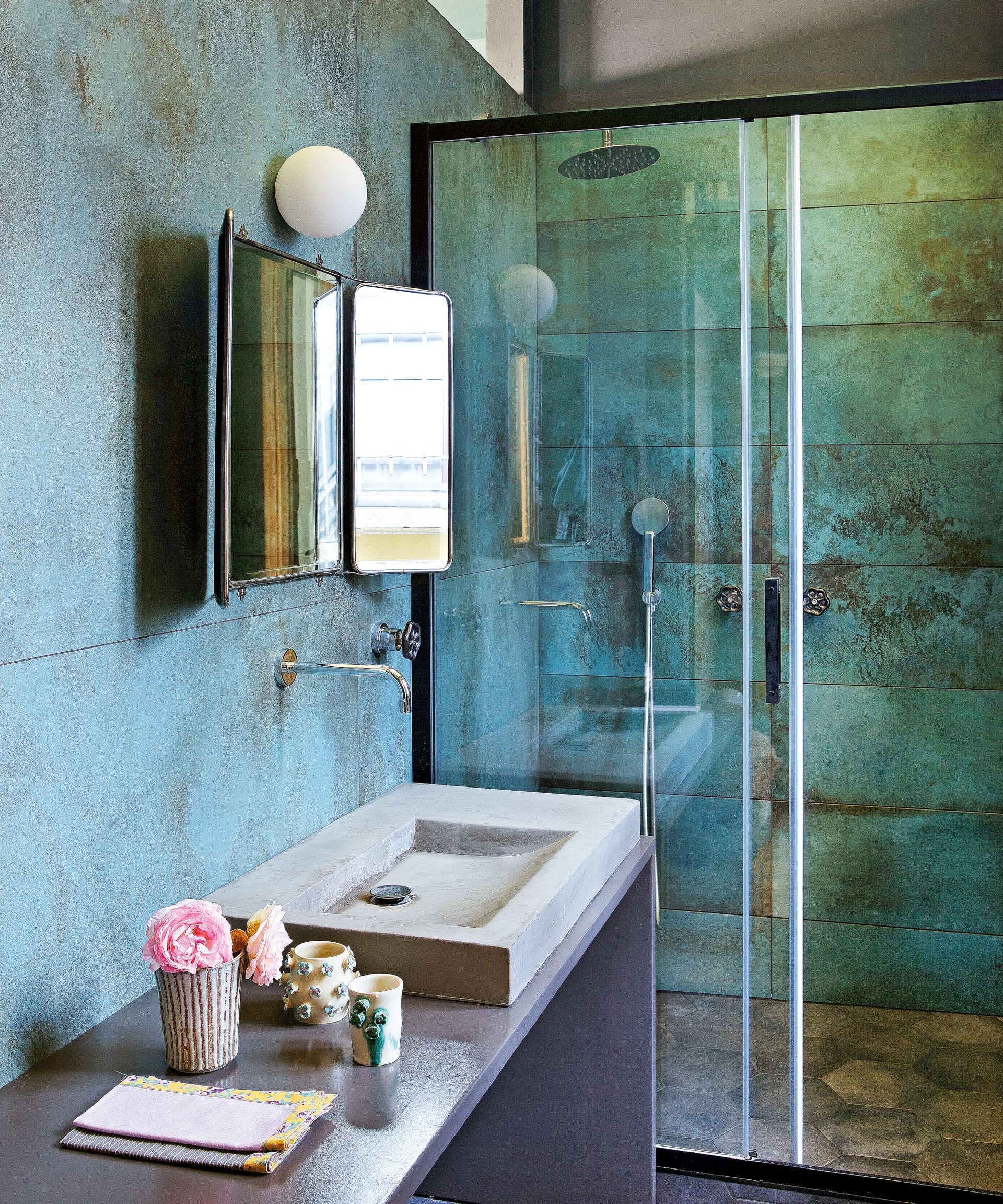 Bathroom ideas included the incorporation of a concrete vanity and a blue-grey stone tile finish to echo the color scheme of the adjoining master bedroom.
A philosophy graduate, Carlotta says she takes a "maieutic" approach when providing decorative inspiration. "It is the concept laid out by Socrates to gently bring forth ideas that are already latent in others," says Carlotta. "And if I can bring out someone's brave side, I'm all for it."
Interior Design / Carlotta Oddone (opens in new tab)
Styling/ Chiara Dal Canto
Photographs/Barbara Corsico/Living Inside